CURRENT
WOLFGANG FLAD | LEV KHESIN »Le voyage dans la lune«
24. JUNI – 30. JULI 2022
ERÖFFNUNG 23. JUNI | 18 — 20 UHR
BACKSTAGE
DANIEL ENGELBERG | WOLFGANG FLAD | LEV KHESIN | WILLI SIBER | ZHUANG HONG YI
MONIKA HUBER | FLORIAN LECHNER | CARIN RILEY
KNOPP FERRO
Anlässlich seines 70. Geburtstags zeigt ein internationaler Ausstellungszyklus die Werke Knopp Ferros. Zahlreiche Galerien in Europa und Amerika, die mit Knopp Ferro seit vielen Jahren zusammenarbeiten, beteiligen sich mit Einzelausstellungen. Diese ermöglichen einen tiefen und umfassenden Einblick in die Vielfalt der Werke, die in den letzten Jahrzehnten entstanden sind. Über 2 Jahre hinweg können die Ausstellungen an den verschiedensten Orten besucht werden.
Beginnend in München, wo Knopp Ferro derzeit hauptsächlich arbeitet, zeigte die Galerie Smudajescheck unter dem Titel "Tollhaus" als erstes seine Arbeiten. Nur kurze Zeit später werden Werke nun am anderen Ende der Welt in Kalifornien bei Louis Stern Fine Arts zu sehen sein mit "Levitating Lines".
Die aktuelle Ausstellung von Knopp Ferro bei der Galerie LOUIS STERN FINE ART, West Hollywood, USA – welche auch Teil der Internationalen Ausstellungsreihe ist – ist sehr erfolgreich.
Gerade wurde sie zur "Must See" Show von dem prestigeträchtigen amerikanischen Kunstmagazin Artforum gewählt.
https://www.artforum.com/artguide/louis-stern-fine-arts-16190/levitating-lines-205124
"Must See" ist ein Specialfeature des Artguide-Bereichs von Artforum, der einen umfassenden Index zu allen Kunstwelt-Events bietet. Die Liste ist die Auswahl der Redaktion von Artforum an wichtigen Ausstellungen weltweit.
Alle Stationen des Ausstellungszyklus werden sein (in alphabetischer Reihenfolge):
DAN Galeria, Sao Paulo, Brasilien
Galerie Denise René, Paris, Frankreich
iGallery, Palma di Mallorca, Spanien
Louis Stern Fine Arts, West Hollywood, USA
Mario Mauroner Contemporary Art, Salzburg, Österreich
Gallery Sonja Roesch, Houston / Texas, USA
Galerie Smudajescheck, München, Deutschland
Galerie Thomas, München, Deutschland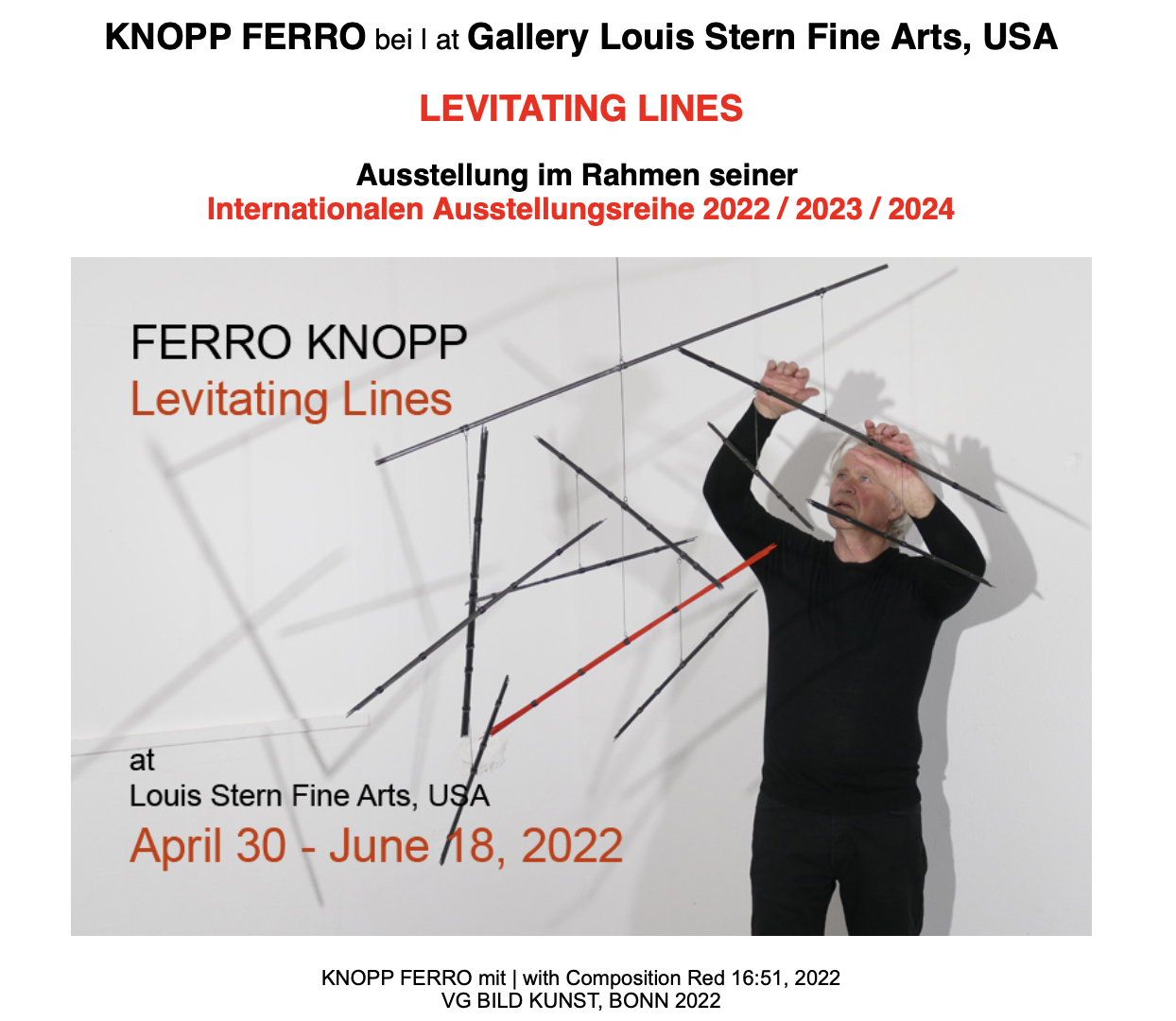 LEV KHESIN
16. April 2022 – August 2022
RITA ROHLFING
Stadtmuseum Beckum
RETRO_PERSPEKTIVE
Malerei Objekt Fotografie

15.05. – 03.07.2022
Vernissage
Sonntag, 15. Mai 2022, 11 Uhr
Einführung: Dr. Diana Lenz-Weber, komm. Direktorin Gustav-Lübcke-Museum Hamm
Abb. Rita Rohlfing: Purpurlinie, 62 x 50 x 16 cm, 2014 © Foto: Rita Rohlfing I VG Bild-Kunst, Bonn 2014
LEV KHESIN
Arbeiten von LEV KHESIN stehen für das Modelabel #BERLUTI Pate
Berluti — THE
#BERLUTI
WINTER 2021–2022 COLLECTION BY @kris_van_assche
CHRISTOPH DAHLHAUSEN
Gruppenausstellung:
Listening to Music Played Backwards
09.04. — 31.07.2022
Heide Museum of Modern Art, Melbourne (AU)
MONIKA HUBER | LEV KHESIN | CARIN RILEY | WILLI SIBER | PIET TUYTEL | ZHUANG HONG YI
Was bedeutet Backstage?
Backstage sind Künstler der Galerie außerhalb der Ausstellungen zu sehen. Wir zeigen Ihnen gerne unsere Schätze "hinter der Bühne". Backstage finden sich sowohl brandneue Arbeiten als auch Werke, die es lohnt, ein zweites Mal anzusehen. Lassen Sie sich inspirieren.
What does backstage mean?
Backstage gallery artists can be seen outside of exhibitions. We would be happy to show you our treasures "behind the stage". Backstage there are both brand new works and works that are worth looking at a second time. Let yourself be inspired.