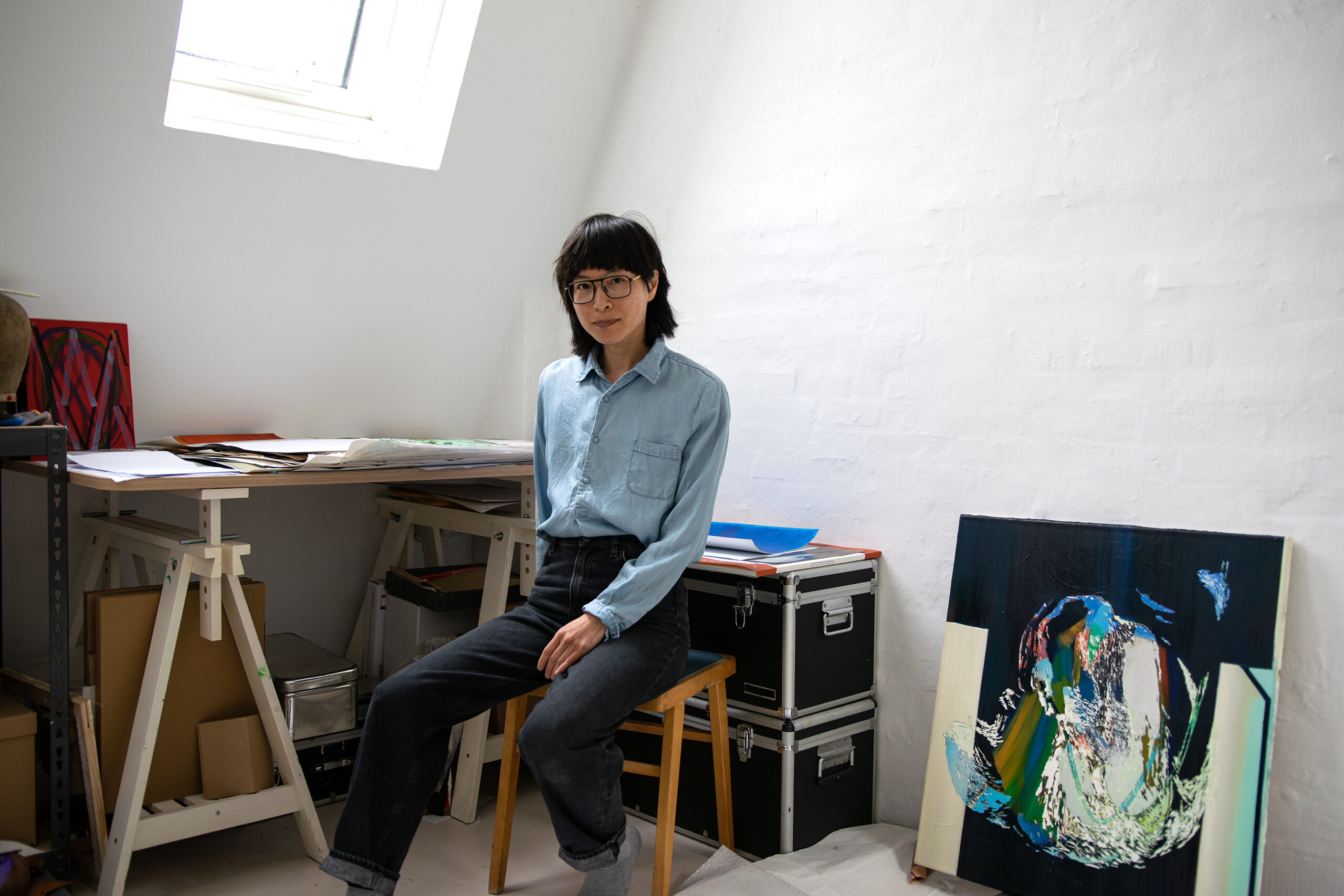 Die deutsche Künstlerin Li Wen Kuo (*1980), die in Kopenhagen lebt und arbeitet, ist vor allem der Malerei verpflichtet. Ihre Bildsprache balanciert und changiert zwischen Abstraktion und Figuration. Li-Wen Kuo beherrscht das große Format ebenso wie Miniaturen, bei denen sie auf die traditionelle Collage Technik zurückgreift.
Ein großer Erfolg in ihrer künstlerischen Karriere war die Beteiligung an den drei renommierten Ausstellungen »Jetzt! Junge Malerei in Deutschland« 2019 und 2020, die in Chemnitz, Wiesbaden und zuletzt in den Deichtorhallen Hamburg zu sehen waren.
Covers für Bücher des angesehenen Wallstein Verlags, zu denen die Künstlerin die Bildvorlagen geliefert hat, stellen eine Besonderheit in ihrem Werk dar.
Mit SMUDAJESCHECK war Li-Wen Kuo erstmals auf der Paper Positions Berlin 2023 mit Papiercollagen vertreten.
In der Galerie in München zeigt SMUDAJESCHECK Li-Wen Kuo zum ersten Mal mit der Soloshow »I see your jealousy« mit Malerei.
The German artist Li Wen Kuo (*1980), who lives and works in Copenhagen, is primarily committed to painting. Her visual language balances and oscillates between abstraction and figuration. Li-Wen Kuo masters the large format as well as miniatures, in which she resorts to the traditional collage technique.
A major success in her artistic career was her participation in the three prestigious exhibitions "Jetzt! Young Painting in Germany" in 2019 and 2020, which were shown in Chemnitz, Wiesbaden and most recently at the Deichtorhallen Hamburg. Covers for books published by the renowned Wallstein Verlag, for which the artist has provided the artwork, represent a special feature of her work.
With SMUDAJESCHECK Li-Wen Kuo was represented for the first time at Paper Positions Berlin 2023 with paper collages.
In the gallery in Munich SMUDAJESCHECK shows Li-Wen Kuo for the first time with the solo show "I see your jealousy" with painting.
Inquire about available works